Pauliina Åhlgren, Sara Hellman and Sampo Pietikäinen from twoday Finland decided to travel abroad for three weeks in March, both to work and explore. One of the main criteria for the travel destination was a warmer climate than the Finnish.
Three countries, five cities
The travelling trio also wanted good food, a nice atmosphere, and a reasonable time zone difference for seamless remote working. They first went to Northern Italy – a city break in Milan, a longer stretch working remotely in Genoa, a quick visit to Nice, and finally a few days of vacation in Turin. A pit stop in Monaco rounded off the trip.

The group only had around five vacation days to spend each, but they definitely got that good holiday feeling.
"We found more interesting day trip destinations than we had time for, but we did our best to accumulate the most diverse experiences," says Pauliina.

For each destination, the program included a tour of the most attractive sights, including experiences in nature.

"Especially the nature attractions in Genoa were wonderful. We spent almost the whole weekend in the Portofino region in beautiful nature trails in the seascapes," says Sara.


Wine tasting and cooking classes
The three travelers have different interests and travelling preferences. They turned their differences into something positive, however, resulting in experiences that each of them would not have come across otherwise.

"It was easy to get the travel club excited about new things, and when you couldn't plan the program yourself, others certainly had ideas to get involved," says Sampo.

For example, Sara tends to look for the best viewpoints and experiences in nature. Thanks to Pauliina, she also discovered incredibly good restaurants, from Michelin restaurants to local gems. Thanks to Sampo, the three ended up at a local's home for a cooking class and an idyllic wine tasting trip to France in beautiful mountain landscapes.
New routines for the workday
"Remote work abroad left only a positive feeling, even though at first I was afraid I wouldn't be able to work," says Sara about the trip.
In a new environment and in the company of colleagues, everyday life became comfortable and different from home – new routines were formed and doing work felt pleasant.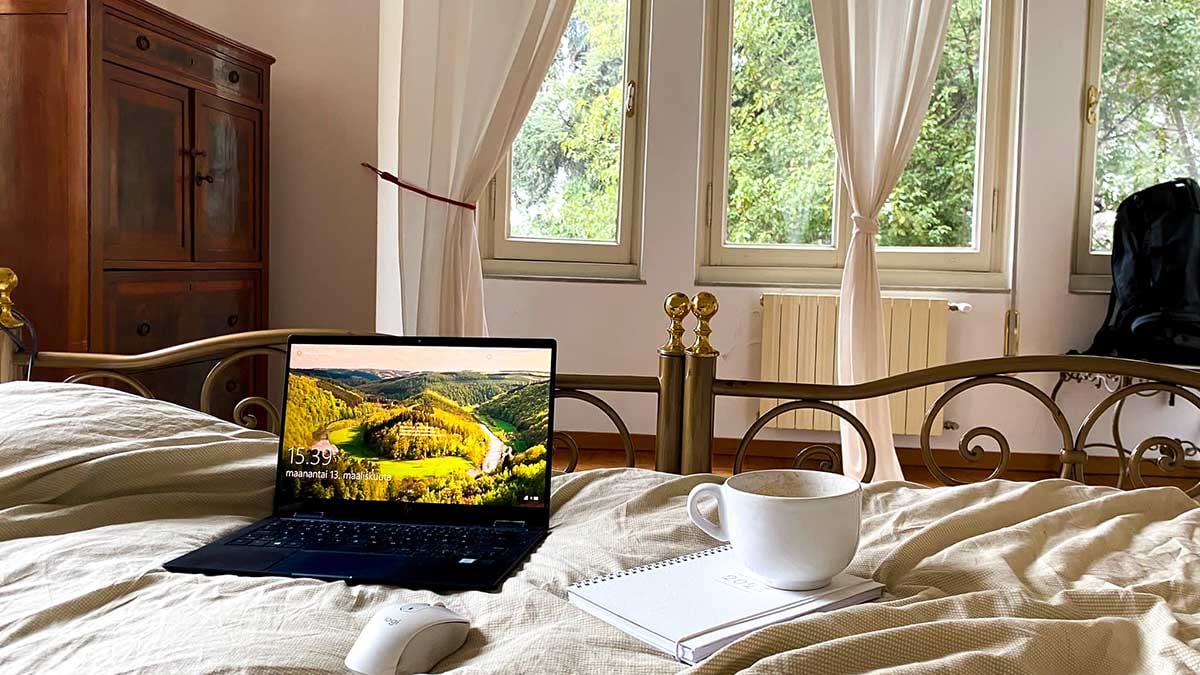 Sara explains that her hobbies pretty much went on hiatus for three weeks, and were replaced with other things. In Genoa, she typically started the day with a group jogging session along the beach boulevard. The evenings were often spent talking and having late dinners, but the group still made sure to remind each other to get enough sleep before the next day.
"Work efficiency only seemed to increase during the trip, probably as a result of an increased energy level and sense of well-being. The sunshine and milder weather did us good," Sara says. "It was also super nice to return home and to the office again after the trip".

Although everyone focused independently on their own tasks, the presence of coworkers was a big plus during work days:
"The work days had a good rhythm as everyone focused on their own tasks. The rotating lunch responsibility also worked excellently," says Pauliina.
Tips for working remotely abroad

All three travellers consider accommodation to be the most important criterion for a successful trip – or mainly that there is a working internet connection and a suitable workspace.
"For longer stays, we all had our own rooms and excellent wi-fi, so fortunately there were no challenges there. However, sometimes the quality of the connection can be difficult to determine in advance," says Sara.
You should look for suitable places to work in the images describing your accommodation:
"Consider in advance how well suited the room set-up, tables and chairs are for working," Sampo says.

In addition, the time zone of your destination is important.
"The time difference between Finland and Italy is only one hour, so it was easy to start the day a little earlier and there was plenty of time in the evening to explore the best spots in Genoa," says Pauliina.

Also important to remember before you book your flight: Get the travel approved by your employer, as policies may differ in different workplaces and for different clients.